Dead Dating - Your Gay Summer Horror Bromance
Dead Dating v 0.4.2 is released.
---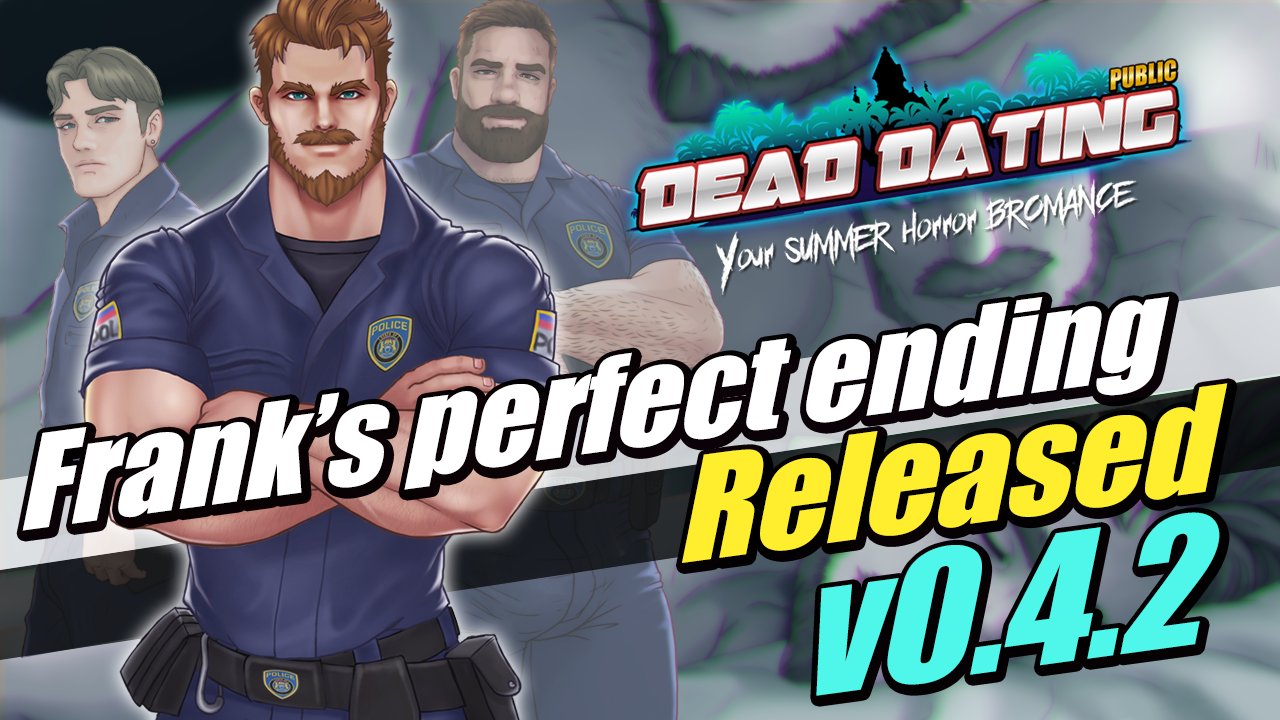 Hey guys! Dead Dating v 0.4.2 is released. Come to get your happy ending with Frank!
-----------------------------------------------
✩ Frank's EP.H released.
✩ Fixed an issue where skipping rescue missions did not increase Relation Value.
✩ Optimized some performance. ✩ Fixed some bugs.
-----------------------------------------------
✩ R18 DLC version of Alex, Frank's Sex event is not yet animated (currently static), but will be updated soon.
Files
📦 Dead Dating (Windows) 0.4.2
470 MB
May 23, 2022
📦 Dead Dating (Android) 0.4.2
525 MB
May 23, 2022
📦 Dead Dating (Mac) 0.4.2
May 23, 2022
Get Dead Dating - Your Gay Summer Horror Bromance
Comments
Log in with itch.io to leave a comment.
Am I not playing it right or are there no sexy scenes in this game. compared to the demo.
They'd said previously that the adult content was reserved for kickstarters and the released version of the game would have no adult content. Don't know if anything changed in those regards.
I just downloaded it 4.2 and the game just goes black and solutions?
This is a cute little game... I'd almost say it's perfect if the time spent on the island were a few days longer to really hype up the suspense of being stranded and possibly "hunted" by a killer. Not sure if there's any future plans to expand the scope of the island content as the game ends on a happily ever after (or not) as it stands, leaving behind many mysteries about the killer and MC's backstory, to say nothing of all the other guys' backstories which are still a bit barebones. But it's great fun even as it stands now, though I wish there was more scope to play detective outside the Alex route.
Thanks for your feed back and hope you had a good time on DD. :)
All mysteries will be solved on Ekram's free DLC. And player needs to back to island to find out the truth. please look forward to it. :)
If you solve all the mysteries (unlike say "Lost") you'll definitely have gained a fan for life!
Hello! I need help. I am following the Karl guide exactly as it is written in the Dead Dating Guide APP Lite but I can't seem to get the "HJevent" to play out no matter what, he just says go to bed. What am I doing wrong? Is there a step missing from the guide? Will a more comprehensive guide be released at some point in the future?
HJ event is R18 DLC event. You just need to send an email to service@fymmg.com with your itch.io username. Stefan will help you there. :)
Hooray to all fans of Frank!!!
Thanks! I hope you will like it! ;)
Love it, looking forward to the animated version with voice acting. Pls leave Frank an adorable TOP as he is. Would it be too greedy to expect more from Frank?
Frank's route is finish at his Perfect Ending. But there still one of his bonus game will came out after the end of all development is done. :)